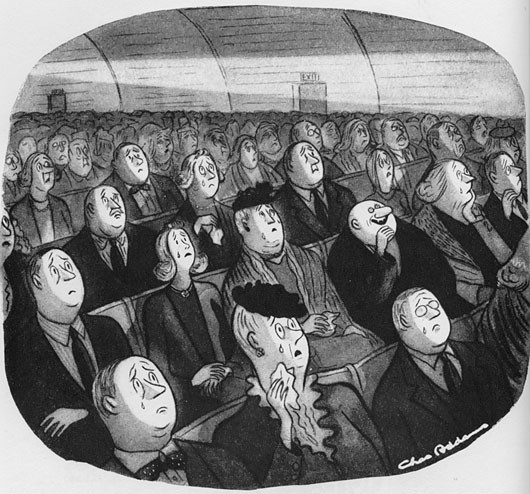 Chas. Addams
Ten Films to get you in a Halloween mood. Trying NOT to duplicate all the films I talked about last year, but not succeeding.
1)
The same as last year. My favorite Halloween film:
ARSENIC AND OLD LACE (1944)
starring Cary Grant, Priscilla Lane, Raymond Massey and Peter Lorre. A hilarious (and occasionally creepy) film about two very sweet (though murderous) old ladies, which takes place on Halloween in the borough of Brooklyn, N.Y. What could be better? Not much.
Sinister quotient: 20%
.
2) SON OF FRANKENSTEIN (1939)
starring Basil Rathbone, Boris Karloff, Bela Lugosi and Lionel Atwill. I've loved the
just-right-amount
of creepiness in SOF for years. I especially love Basil's rising hysteria which is so fun to watch. And I love Lionel Atwill's study of an honorable man doing his best, denied greatness (in his own mind) by fate - he is burdened by a mechanical arm which replaced the flesh and blood arm torn off by the monster. He steals the movie. Love the bizzaro setting, the austere castle seemingly decorated by Franz Kafka, the lab, the underground sulphur pit and oh, Igor. Ah, the imaginative trappings of 1930's/40/s horror films.
Sinister quotient: 80 %.
3) THE UNINVITED (1944)
starring Ray Milland, Ruth Hussey and Gail Russell. A brother and sister combo buy a beautiful, isolated house on the English coast, a spur of the moment purchase which almost immediately proves to be ill-advised. The house is haunted. A very atmospheric ghost story which proves that special effects are totally over-rated. It's all about excellent camera work, the shadows, the music, the unexpectedly cold night breezes and the fluttering pages in a book.
Sinister quotient: 90%.
4) DRACULA (1931)
starring Bela Lugosi. The ultimate popcorn vampire move. Yes, it's a campy delight, but there are still a few very imaginative and frightening moments. Lugosi is wonderful far as I'm concerned. When I think vampire, Lugosi is still the immediate reflex.
"I don't drink...wine."
Sinister quotient: 85%.
6) ABBOTT AND COSTELLO MEET FRANKENSTEIN (1948)
starring Bud Abbott and Lou Costello, Bela Lugosi (Dracula), Lon Chaney, Jr.(The Wolfman), and Glenn Strange (The Monster) The title and the cast say it all. Just about my favorite Abbott and Costello film.
Sinister quotient: 40%.
7) THE GHOSTBREAKERS (1940)
starring Bob Hope, Paulette Goddard, Willie Best and Richard Carlson. My favorite Bob Hope film. It's all about a mysterious inheritance, a creepy Caribbean castle, ghosts, a zombie, murder, racketeers, buried treasure and great photography.
Sinister quotient: 40%
8) THE MUMMY (1932)
starring Boris Karloff. Creepy first version which began (at least for me) the whole 'mummy runs amok' craze. Another of those early movies that proves you
DO NOT NEED
mind-boggling special effects or a guide book on a hundred revolting ways to die to make a scary movie. Karloff is perfect as the mummy in the title, the preserved cadaver of Imhotep, an Egyptian prince buried alive eons ago.
Sinister quotient: 70%
9) CAT PEOPLE (1942)
starring Simone Simon and the ever-bland Kent Smith. A Val Lewton classic of noir film-making. Frighteningly fabulous shadow photography by Nicholas Musuraca sets the mood and grips the imagination without ever really showing anything.
Sinister quotient: 70%
10) THE MANCHURIAN CANDIDATE (1962)
starring Frank Sinatra, Laurence Harvey and Angela Lansbury. A seriously creepy
'mother as monster'
story about a small group of Korean War vets brainwashed by the
Reds
then sent home to await their psycho prompts. The rather disturbing tea party scene alone is worth the price of admission.
Sinister quotient: 100%.
Of course there are many more films perfect for Halloween watching, so if you like, feel free to add your own faves in the comments section.
I was going to add the silent classic NOSFERATU to my mix, but that movie is still too frightening for me and I've never watched it all the way through.
Some very cool movie poster art for Halloween.
P.S. November 2nd is THE THING From Another World Day, so we'll be dishing about my favorite monster film then.